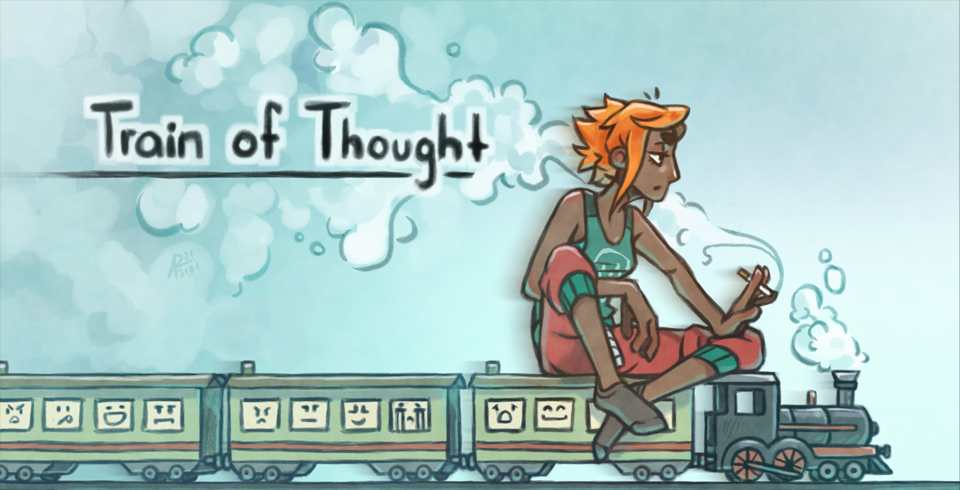 Train of Thought
A downloadable game for Windows
Welcome on my Train of Thought
A queer visual novel mixed with side scrolling autorun platforming, in which you play for picking the dialogue options instead of just choosing them.

The current pandemic demands staying at home most of the time and Phoebe, a game journalist that lives in a comfy flat with her girlfriend Lucy and their cat Mo..
she doesn't like it all that much. Looking at a screen several hours a day is not an issue for her, but now that she's forced to stay at home, she's getting more and more frustrated, and it gets to her more than she wants to admit.

Although she's well versed in written language, she's struggling with talking in a coherent manner, often forgets what she wants to say and gets sidetracked easily. Her mood affects how she talks and what she's saying which sometimes gets in the way of what she wants to say.
Help Phoebe to communicate with the people around her and maybe, reaching a better destination of her train of thought.



---
This game is a Global Game Jam 2021 Entry, which you can find here.
IF YOU ARE STUCK IN A LEVEL:
Use F1 to Restart current level
Use number keys 1-5 to jump to the corresponding level
Content Warnings

anti-asian racism
themes of anxiety
social conflicts
Quizz: Follow the link to see what Train Of Thought character you are! https://www.onlineassessmenttool.com/train-of-thought-1.1/assessment-113708 (to get the result in the end, just enter a random name and email address like "jwhdj@dhuwdh.com", it doesn't matter)
Credits:

'shoshua' - Joshua Bach - Game and Level Design
'hollowspecter' - Finley Baguio - Programming, Sfx, Music
'Ann-Ka' - Ann-Kathrin Raab - Character Art, Character Animation and UI
'Bloodless Tukan' - Daniel Simon - Game Design and Writing
'Schlingelis' - Ingelis Wipfelder - Writing
Special Thanks
Download
Download
TrainOfThought_WIN_1.0.6.zip
35 MB